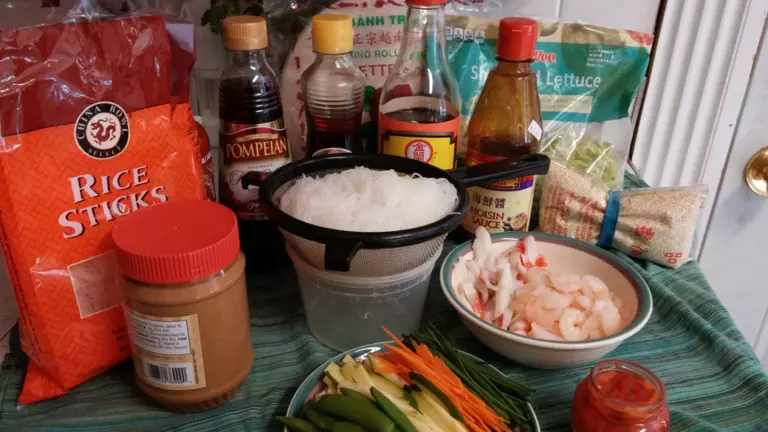 Rice Paper wraps
Rice sticks
Vegetables (use any raw or blanched vegetable, julienne larger vegetables)
Zuchini
Carrots
Snow Peas
Red, Green and or Yellow Bell Peppers
Green Onions
Gluten Free Soy Sauce
Sauce:
Mayo
Sriracha
Finely Minced Garlic
Stir together and place in bottle dispenser (or use a ziplock bag, cutting off the corner leaving a very small opening when ready to asseble rolls).
Prepare Ingredients
Cook rice sticks according to package directions in salted water, rinse in cold water and set aside.
Blanch and shock firmer vegetables such as Carrots or Snow Peas by first dropping in to boiling salted water for 3 minutes, remove and place in a bowl of ice water to retain color and some crispness. This technique can also be used with raw shrimp.



Assembly
Place one sheet of rice paper in tepid water for a few seconds to soften.



Lay softened sheet on flat surface. Lay 3 shrimp in a horizonal line in center of sheet. Lay vegetables parallel to shrimp. Lay a small amount of the cooked rice sticks in the same direction as the vegetables all while leaving a 1 inch edge on the left and right sides. Drizzle with sriracha mayo. (For gluten free recipe, drizzle with gluten free soy sauce instead.) Fold bottom edge of sheet over vegetables and shrimp. Bring left and right edges toward center of roll, closing sides. Tightly roll "burrito style" and place on serving surface seam side down.